CORRECTING K9S
Testimonials
"Jess is the BEST decision we ever made for Buster. About a month ago we were at a desperate place not knowing what do with Buster and after answering my desperate plea and pretty much begging him to take on Buster, Jess has trained me well … lol … oh and Buster too! I still have a lot to learn and our family as a whole but Buster has come so far. If you ever need a dog trainer or get a puppy (start training EARLY!!) we HIGHLY recommend Jess Butler…not only is he good at what he does … he loves what he does!!"
I just want to say thank you again for taking time to talk with me last week. I really appreciate your help and advice. I also want to let you know that we have decided it best to re-home Holly. I found a Griffon rescue board online and posted an ad and a woman who does Griffon rehabilitation & rehoming contacted me. She actually has Holly's only litter mate because he came to her after he had bitten 3 people. He is the 2nd dog from Holly's same breeder that she has had. So, we are thinking that some of her quirks were bred into her ? Either way, I am fairly sure she is going to help find Holly a great home. Of course our goal is just that, making sure she gets a great home and is taken care of by someone who knows her issues and can work with her. You taught us so much about dogs and I look forward to using that knowledge someday with another dog. Thanks again!
Our puppy had been getting very aggressive and we didn't think we could keep her in our home with children. I got Jess' name from a friend and when I called him, he was so nice and seemed so positive and happy to help us. When he came to our home, it was amazing to watch him with our dogs. He taught us so much and just a few days later there is a huge difference in our dog. She is happier and we are happier, and we get to keep her. Thank you so much Jess!
We had Jess help us with our two year old golden retriever, Gracie that we rescued from the Saginaw County Animal Shelter. My husband and I were really impressed with Jess' commitment and compassion he showed to the animal Shelter and all animals. Jess was extremely helpful for new dog owners like us who had no idea what to do with training a dog. Jess was extremely caring and very patient with Gracie. Jess took his time with us, never rushed through anything and made sure we all understood what were doing. He spent time making sure we accomplished what we wanted with Gracie and did this by listening to us, coming prepared prior to class with goals and staying focused on the task. After Jess helped us we could definitely tell a difference in Gracie's behavior. Jess gave us the tools to better communicate with Gracie so she knew what is expected of her. Gracie is a happier and healthier dog because of Jess and her owners love her! I would recommend Jess to anyone as he has the capability to work with all kinds of dogs, level of situations and met all needs that a dog owner may have on training their dog effectively.
As a volunteer at a community adoption facility I have seen Jess training a wide variety of dogs. This is a stressful environment, with animals from unknown backgrounds presenting different sets of psychological and behavioral issues.Getting to the root cause and addressing unwanted actions are critical for the well-being of dogs during their stay. Jess works quickly to establish a comfortable, dominant relationship and encourage secure interaction. He utilizes a variety of techniques to direct and encourage dogs to reach positive training outcomes. Jess's goals always include a relaxed and happy animal whether a behavior concern is based in dominance, aggression, submission or fear. He is a consistent and patient trainer. Jess also assists volunteer handlers so their follow-up work supports his initial observations and course of training of instruction. He sincerely wants the best possible outcome for any animal he works with, and doesn't hesitate to share his knowledge or experience with owner and handlers. I wouldn't hesitate to call on Jess or recommend him for training assistance with any dog.
I've seen Jess Butler in action at the animal care center in Saginaw. He can have an uncontrollable dog walking at his side in less than an hour. He's extremely knowledgeable about dogs and their behavior. I've consulted him many times regarding small and large breeds and he's been very helpful every time. I've recommended him to friends and they have all been happy with his natural talent and his exceptional prices! It's easy to see he enjoys training dogs and is very compassionate and patient with them. I would recommend him to anyone that wants the very best for their animal.
I would like to thank Correcting K9s (Jess Butler) for all of the help with our dog Harry. I got Harry when he was 9 weeks old and he was a normal puppy. I knew that obedience training would be in our future. I was told about Jess from a friend and he came highly recommended. Jess was so easy to get along with and you could tell he genuinely loves what he does. I decided to do the 6 week training for the general obedience. I was amazed that after the very first training session how quickly Harry began to listen to me. The training progressed so much quicker and easier than I thought it could. Jess made it seem so easy and Harry seemed to really enjoy the time we had together. I have gone through obedience training before with another trainer and this was such a welcome change from that training. I liked the one-on-one approach and I felt more at ease. I know that made a difference with how quickly the training took effect. Thank You!
Jess came highly recommended by our neighbor after discussing our recent experience with obedience training at Pet Smart. After the first ten minutes with our 8 month old golden retriever "Missy" we could see the experience he had. He is very calm and has the ability to "read" what the dogs are thinking. My family is very pleased with the results ,and as we continue to work with "Missy" I will start working with our other dog "Moka". Thank You Jess!
Everything Jess suggested for little Bailey is working great! He is doing sooooo good learning commands at lightning speeds, and growled at me only twice but it was so easily corrected, he hasn't done it since. I'm so beyond pleased with his progress. Anyone that needs a great trainer get a hold of Jess Butler , you won't be sorry. His training techniques work so well!
I rescued an 8-year-old Boxer/Pit (Louie) from A Few Steps From Home. He had been at the rescue for a year. What a lover he was, but he had issues. He attacked my Dachshund and my cat 3 times. I was devastated; now what could I do?!… It was awful! I called the rescue and they recommended Jess Butler to me. He came over and after about an hour, gave me his advice which I followed it to the best of my ability. He was very observant, but more so, he was kind, mingled with the dogs, got on the floor and played with them and really got to "know" them. Now, we are a happy family. Louie has settled in, I have shown him who the "alpha" is in the house and we are all content. Thank you Jess for your insight, your patience and your love of dogs! If not for you, Louie may very well have had to back to waiting for someone to rescue him. And my heart would also be broken. Your kindness and ability to help we "humans" learn what we need to learn is outstanding. I have and will continue to refer those that need you to you. Thank you!!
Dogs have always been a part of my life. This included the big working breeds such as Alaskan Malamutes, so I wasn't anticipating any problems with a little six pound Shih Tzu. He proved to be my undoing and I found myself dreading his morning wake-up cries. He was a terrible biter. I couldn't pet him on any part of his body, and my hands and arms looked like I had used a razor … cuts, scabs, and bruises. One night after he was in his crate, I did some research and was given Jess' name. We made an appointment, and within a few minutes of his arrival, the dog was already beginning to calm down. He did a complete evaluation and before leaving … the dog was SITTING! I was amazed! Paxton is still a puppy and we have much work to do, but it is so much easier when he will cooperate. I couldn't help but think: It's a lot like parenting. No one ever gives you a class on the most important job you will ever be assigned. However, there is a choice with raising a puppy. Call Jess! He was professional, firm yet gentle, and I would recommend him to anyone.
Jess knows what he is talking about in all areas of dog training. I am a senior citizen, and have some physical disabilities. I wanted my daughter's 5 year old Golden Retriever to learn some manners and I wanted to be able to leash walk him without injuring my back. Jess was very helpful doing this, and now we can let him off leash in the front yard, with the other dogs in our family to play. Also he heels very well and is starting to come when called. Thank you so much, Jess. You've made our family "friends for life".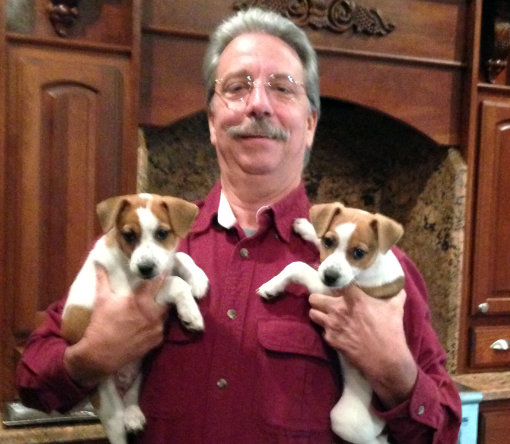 Our dog Nelly was 8 months old when Jess started working with her. Nelly had great personality but had a few bad habits; she jumped up on people, begged for food and took me for our walks. My biggest fear was that after training Nelly would lose her sweet personality. Nelly came back with the same personality, but lost her bad habits. Jess was able to give us the tools we needed to show Nelly that we were her leader. About a year after Jess worked with Nelly we were expecting our first child. Jess had excellent advice on introducing Nelly to the new baby. Our son is now almost two, he and Nelly are running around the house together as I type this. I cannot thank Jess enough for everything he has done to help make Nelly a great addition to our family.
I met Jess Butler about 2 and a half years ago at Saginaw County Animal Care Center where I was and am volunteering as a main kennel dog walker. I had never been around large powerful dogs before. After a bad experience with a Rottweiler mix I became scared of all the power breeds. Jess took the time to show me that I could get over my fear and that I could work with these dogs, as long as I took his few simple suggestions. Took a long time , and I have a way to go, but now these power breeds and I have a respect and bond that I could never have attained, left to my own devices. And when one of these dogs get a home, I know I had a part in getting them there. If it weren't for Jess I would have quit the shelter. I have witnessed some truly remarkable times of Jess working with the shelter dogs. He understands them quite deeply and always went the extra mile for the one's who had severe behavior problems. I would eagerly recommend Jess to train, and in training, help your dog.
As a first time dog owner, I was very happy to have Jess work with me and my dog. His obedience training with me and my dog was invaluable. I really appreciated his love for dogs, calm demeanor, and positive energy. He taught me how to work with my dog and teach her how I expected her to behave. Working with Jess, helped me meet and exceed the expectations I had for my dog's obedience training. I was pleased with the time and effort Jess put forth in working with us and will continue to recommend him highly to dog owners who need help in teaching their dogs good habits in a firm and positive manner.
Jess Butler was so easy to work with and the results were amazingly fast. You can tell right from the start that Jess knows what he's doing and he genuinely cares for the dogs. His approach is simple and logical, and if you, the owner, can be trained to understand how dogs think and behave, his methods work really well.
After over 10 years of being a dog-free household we decided now that our kids were all gone we wanted to get a puppy. Of course we had forgotten everything there is to know about young dogs … it had been so long. Luckily for us Jess came into the picture. He did a new puppy training with our new black Lab puppy … Mia. We had 2 sessions. The first one we went over the basics of feeding, crate training, potty training and how to get our new puppy to adjust to our household and to the 13 year old cat! Very helpful information that made us feel more comfortable taking care of our new puppy. The next session was on basic commands, sit, stay, come, and training our puppy to follow the needed commands to stay in a safe and healthy environment. Thanks to Jess our puppy is now an 80 pound 2 year old who has been an amazing addition to our household. We are so thankful to Jess for helping us to be comfortable and relaxed with our new puppy and to train her to become a faithful part of our household. We learned so much from him we have now added a second puppy. We have 4 month old yellow Lab … Maddie. We are confident in our training techniques now and know she will be a welcome addition also. Thanks Jess … for your patience and your talent with animals!